(Hethel, UK – 14 December 2021) – The global Lotus community is saddened to learn that Hazel Chapman, the wife of Colin Chapman and co-founder of Lotus, has died aged 94.
Her contribution to motorsport and the motor industry in the latter half of the 20th century should not be under-estimated. She was a successful racing driver, a shrewd businesswoman and the rock upon which the Lotus foundations – since 1948, when the very first Lotus car was made – were built. Her involvement in the development of the Lotus business was almost without equal at the time, in a world where women so often played second fiddle to their husbands.
Matt Windle, Managing Director, Lotus Cars, commented: "This is a very sad day for everyone around the world associated with Lotus. Without Hazel Chapman there would be no Lotus. The entire Hethel team, and those working at our facilities around the world, send their sincere condolences and best wishes to the Chapman family."
Hazel Williams was born on the 21 May 1927 in North London. She met Colin Chapman at a dance in 1944 when he was just 16 and she a few months older. As the couple's relationship developed, Hazel's parents allowed Colin to a build what became the first Lotus – the Mark 1 – in the lock-up garage at the back of their house in Hornsey.
Colin gained a commission into the Royal Air Force, so Hazel continued with the building of the Lotus Mark 1 and then the Mark 2. Competition success in races entered by Hazel and Colin resulted in new commissions for their automotive services. With Hazel's commercial acumen, their first Lotus business was formed on 1 January 1952. It became a limited company later in the year, funded by payment of £25 from Hazel herself.
Hazel and Colin married in 1954 and as the business grew Hazel took a seat on the board of a number of their companies, including Lotus Cars, Team Lotus and Lotus Components.
She was not only an astute businesswoman but took on a matriarchal role within the organisation, the epitome of the phrase 'Behind every strong man is a stronger woman'. She prided herself of working with almost every Lotus Formula 1 driver including iconic motorsport names such as Jim Clark, Graham Hill, Jochen Rindt, Emerson Fittipaldi, Mario Andretti, Nigel Mansell and Ayrton Senna. She was also a founder of The Dog House women's motorsport club.
Widowed in 1982, Hazel recognised that Lotus Cars needed new ownership to secure its future and played an instrumental role in its sale. She became a Director of Classic Team Lotus, the Chapman family business which preserves the cars and legacy of the brand's global racing success.
Hazel maintained a close interest in all things Lotus, for example, she 'signed off' the 100,000th Lotus road car in 2018. Tradition dictated that Hazel was always shown the latest Lotus road car prior to it being unveiled to the public. That wonderful custom continued into the modern era, and she viewed the Lotus Evija with her son Clive Chapman two weeks before its debut in July 2019.
The Silverstone Classic just gets better and better and 2022's date for your diary is the August Bank Holiday - 26th-28th August.
The Silverstone Classic is an incredible event with a full programme of historic and classic racing covering the 1950's to the 1990's. There are also air displays and helicopter rides, stunt displays, period fun fair, auto jumble, shopping areas, track parades and a car auction. In keeping with all things 'Classic, British and fun' the popular Village Green area acts as a central catering and meeting point with village stores, catering outlets, bandstand, Punch & Judy Show and much, much more including the popular big screen so you'll see all the action. There's also live music on both Friday and Saturday nights.
For full up-to-the-moment event information visit www.silverstoneclassic.com
As usual Club Lotus will have a large reserved infield parking area exclusively for all members who buy discounted tickets using our unique Club Lotus booking code. (Please contact us for the code - email annemarie@clublotus.co.uk or jane@clublotus.co.uk)
Please remember that the only way you can obtain your free infield club parking pass for our Club area is by buying your tickets in advance using our booking code. Also as always admission is by advance ticket only with NO tickets available on the gate.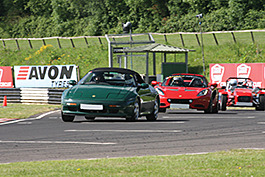 CHANGE OF DATE TO 30TH APRIL 2022
We have a change of date for 2022 because the Queen's Platinum Jubilee celebrations has meant that the traditional late Spring Bank Holiday on the last weekend of May has been moved to the first weekend in June. This has disrupted the British motor racing calendar and consequently Castle Combe have been forced to re-schedule their own events calendar. We have therefore had to move our annual trackday to Saturday April 30th although everything else will remain as usual. Track packages are still only £99 for members and we are now taking bookings - either book through the website or just call Club HQ on 01362 691144 or 694459. We will be reverting to our usual late May Bank Holiday Saturday date in 2023.
Our annual May Bank Holiday track day at Castle Combe is always one of our most enjoyable events of the year. It's a great Club Lotus day out as well as a brilliant value and safe track day exclusively for Lotus cars.
Please note: You must be a member of Club Lotus in order to purchase the track driving packages